Registration
Our Littlest Angels Registration Information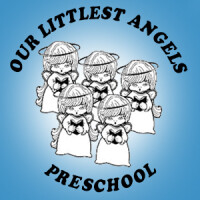 Registration Information
Registration for Fall classes begin in January of that year. Registration is opened first to current students and siblings of current and past students and members of the church. At the end of January, registration is opened to the community when we have our annual open house.
A nonrefundable registration fee of $50 must be included with this application form to reserve your child's spot in a class. Checks must be made payable to "FUMC". Application forms and the fee must be turned in to the Preschool Director, Karyn Custer-Jankowski. Classes are filled on a first-come/first-served basis. Once classes are full, your child's name will be placed on a waiting list and you will be called if an opening becomes available.
During Summer Months
During Summer months, please contact the Preschool Director, Karyn Custer-Jankowski, for more information about the preschool and to register your child. She can be reached by calling the church at (219) 465-1661 Ext. 131. Please leave a voicemail message if there is no answer. This is the best way to reach her, as she does not have summer office hours at the church/preschool. You may also email her at .
Voicemails and emails are answered within 24-48 hours, if not sooner.