Pre-K
For children 4 & 5 years old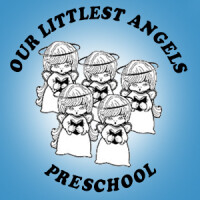 Our Littlest Angels Pre-K
(Must be 4 y/o by 8/1/22 and fully potty trained – no pull-ups.)

Monday/Wednesday/Friday 9:00 – 11:30 a.m.
Transitioning to: *Extended Day 9 a.m. to 2 p.m. Wednesdays beginning January, 2023.
Tuition: $170/month (September through May) (Maximum class size: 16)

This class provides the students with the opportunity to experience a longer day similar to a full day of kindergarten. Students provide their own sack lunch.
In the afternoon, the students complete the Minds in Motion Maze and are exposed to additional hands-on learning opportunities. View the video below for more about Minds in Motion Maze.
For more information, you can email the Preschool Director at