Pre-K
For children 4 & 5 years old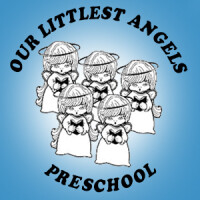 Our Littlest Angels Pre-K
4 - 5 Year Olds (must be 4 as of September 1 and potty trained)
Transitioning to Extended Day
Monday 9:00 - 11:30 a.m.
*Monday 9:00 a.m. - 2:00 p.m. February - May
Wednesday 9:00 - 11:30
*Wednesday 9:00 a.m. - 2:00 p.m. October - May
Friday 9:00 - 11:30 a.m.
Tuition: $160 ($163 online: $160+ $3 processing fee) per month (maximum class size of 16 children)
Pre-K curriculum details can be found on our curriculum/schedule page.
This class provides the students with the opportunity to experience a longer day similar to a full day of kindergarten once, then twice, a week as the school year progresses. We have two classes. Each class has a teacher and an aide. Students provide their own sack lunch.
In the afternoon, the students complete the Minds in Motion Maze and are exposed to additional hands-on learning opportunities. View the video below for more about Minds in Motion Maze.
For more information, you can email the Preschool Director at