Curriculum/Schedule
A safe and nurturing environment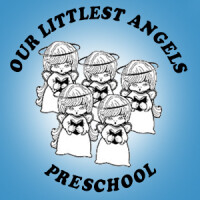 Our Littlest Angels Curriculum/Schedule
Curriculum
Social - sharing, manners, getting along with others, following rules
Emotional - feelings, self-image, self-respect, independence
Language - stories, listening, speaking, songs, finger plays, dramatic play
Physical - large and small motor coordination, eye/hand coordination
Academic - alphabet/phonetics, numbers/counting, colors, shapes, days of the week, months of the year, rhyming, seasons/weather, monthly themes, music, art, science, field trips, holidays, health/safety, address, telephone, sign language letters and words
Spiritual - daily morning and snack prayers, monthly "Chapel Time", Bible stories and songs
In addition: field trips, "make our own snack" days, holiday parties and parent readers
For more information, you can email the Preschool Director at

Morning Schedule
Drop-off - Curbside
Learning Centers - play, learn, explore
Morning Meeting - prayer, calendar, songs, academics, book, monthly themes, misc.
"Big Room" Plan - gross motor development
Snack - prayer, healthy snack brought in by the "Special Helper"
Project - fine motor and brain development
Quiet Play - books and puzzles
Dismissal and Pick-up - curbside

Pre-K Extended Day Afternoon Schedule
Lunch - prayer, lunch brought in by each student
"Minds in Motion Maze" - stimulates VISUAL processing, AUDITORY processing and MOTOR skills (watch the video below for more information)
Activities - Each week we focus on further development of gross motor skills, fine motor skills, academics, social and emotional skills.
Field Trips:
Each class may take two (2) or three (3) field trips per year. For example: the pumpkin patch, apple orchard, Rotary Garden are a few of the field trips we've taken in the past.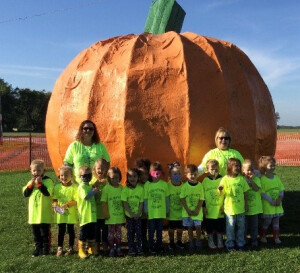 Chapel Time:
Once a month we have Chapel Time instead of working on a project. Chapel Time is about 15 minutes in length. The class goes to the church Sanctuary and sits around the teacher to hear an age appropriate Bible story (picture story books or wood characters are used), starting with the Old Testament in the Fall, Christmas in December and on to the New Testament the rest of the school year, culminating with the story of Easter and Ascension.